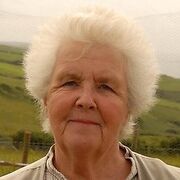 Joan was Martin's aunt and the sister of Christopher Ellingham, Martin's father
She and Christopher inherited Haven farm, which was left to the both of them by their uncle Dick, and Christopher gave it to Joan and her husband Phil as a wedding present.
She and Phil also played host to Martin during his childhood holidays but that ended when Christopher discovered she was having an affair with John Slater, and she and Martin were seperated.
At some point, Phil died of Motor Neurone disease, and left Joan a widow for 25 years.
In 2004, when Martin moved to Portwenn to become a GP, she reunited with martin.
She provided Martin with emotional s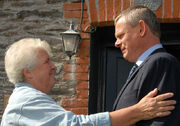 upport and loved him like a mother.
Joan continued to be very close to Martin but even she became exasperated by his extreme bluntness and apparent thoughtlessness ("I sometimes wonder if you have a sensitive bone in your body, Martin").She lived at Haven Farm, which is organically certified, that she inherited from her Uncle Dick. The farm was left to both Joan and Christopher but Martin bought out his father by selling his flat in Kensington, London to pay for the debt that Joan owned. It was revealed she died of a heart attack in Preserve the Romance
First appearance: Going Bodmin
Last Apperance: The Wrong Goodbye
Ad blocker interference detected!
Wikia is a free-to-use site that makes money from advertising. We have a modified experience for viewers using ad blockers

Wikia is not accessible if you've made further modifications. Remove the custom ad blocker rule(s) and the page will load as expected.